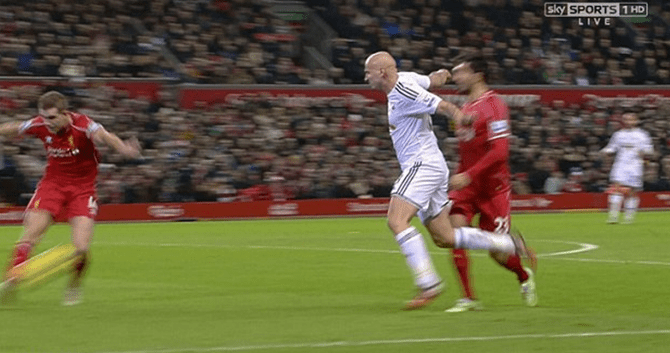 Like it wasn't enough to score an own goal at the stadium where he once played and was almost driven off to Swansea, Jonjo Shelvey could face a four-match ban for elbowing Emre Can.
Tenacious midfielder is charged with violent conduct by FA and has an option whether to accept it and receive and automatic ban or to go to disciplinary commission. If he is found guilty, he'll have to be off the field for four games because of a red card he got against Everton in November.
Shelvey explained on his Twitter account he didn't intentionally hit Can and that he did apologize to Liverpool player, however an investigation has still been under way and the reason is because it wasn't seen by the referee Andrew Mariner.
On the other side, Raheem Sterling will not face any prosecution for slapping Fernandez later in the game since Mariner wrote in his report that match officials spotted an incident and since there was no action, Sterling will remain unpunished for a clear punch in the face right in front of the referee.